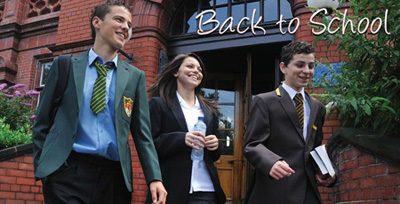 Welcome to Steadyschoolwear, Yorkshire's leading uniform and accessories provider. Steadyschoolwear was established to create a simple, reliable and convenient system for parents to buy uniform without any stress or hassle.

Steadyschoolwear is a family-run, local business, which was established with the aim of providing parents with a new, easy way of buying school uniform.

What can we do for you?

Steadyschoolwear was established to address many of the problems commonly experienced by parents during the uniform buying and selling process.
Steadyschoolwear offers:

· Email and telephone advice and support
· A unique log-in tracking system
· Convenience
· Free delivery on orders over £100
The Steadyschoolwear concept was born out of experience; we have children ourselves and we recognised that the process of buying school uniform can be long-winded and inconvenient for both parents and schools. Our aim was to create a simple, fast and reliable service to make buying school uniform hassle-free and ease the burden on parents.

We recognise that time is an increasingly valuable commodity for parents and we have designed a simple online ordering system to make life easier; we offer flexible payment and delivery options to suit the individual client. Parents are invited to order items to be delivered to home or to their child's school as part of the school bulk collection system.

We accept PayPal, credit and debit card payments via our online ordering facility, eliminating the need for parents to worry about getting to a cash point and going into a shop or waiting for cheques to clear. The online ordering system is accessible, quick and reliable. All payments are processed through PayPal's secure payment system; please note that you do not need a PayPal account to use the credit and debit card payment facility.